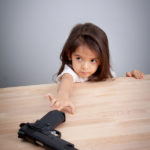 Gun safety courses Ma are designed to equip people with the knowledge they need to stay safe around guns. Even so, these courses don't cover a lot. This is more so when considering the fact that they only last a couple of hours. There isn't much that you can learn within this time even with hours on the firing range. It is for this reason that this post has been written to arm you with a few tips on how to increase gun safety at home. This is particularly important if you have kids.
Lock it away
The best thing you can do to keep everyone safe is to lock your gun in a foolproof box. You don't have to secure the gun in a biometric safe. You just need a safe that cannot be tampered with. Keep the keys out of reach and don't forget to hide the safe. The last thing you want is for you to lose your gun license Ma simply because your child accidentally fired your gun or worse because someone in the house got shot because the gun was not safely stored away. Keep your LTC Ma and family safe with a good gun safe. Don't be afraid to spend a few extra bucks for a gun safe. It will save you from a lot of trouble in the future.
Educate your kids about guns
You don't necessary need to enroll your teenage son in gun safety courses Newton to get the point across. You just need to talk to him about the dangers of mishandling firearms. Make sure they fully understand the difference between a toy-gun and a real gun. Teach your child to never touch a gun without supervision. If he is over the age of 15, you can consider helping him or her get an FID card Massachusetts. Make sure you take him to a Massachusetts gun safety course trainer who is not only certified but good with kids.
Making sure your child understands that a gun is not something to play with is the best thing you can do in increasing gun safety at home. Teach your kids to never hold a gun without supervision and to always assume that every gun is loaded. The more you educate your child on gun safety the more you will be able to keep him or her safe from harm. As a bonus, you will not risk losing your gun license Ma.