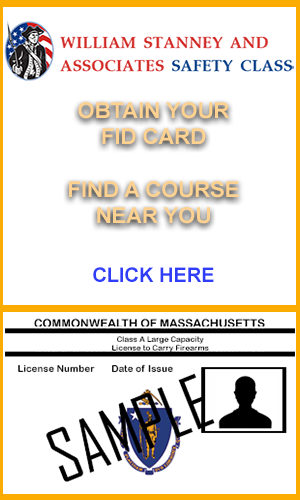 The Second Amendment to the United States Constitution protects your right to keep and bear arms. However, in order to possess, purchase and carry certain firearms, you will need to have a gun license. If your goal is to use non-large capacity rifles and shotguns, you need to apply for an FID card Framingham. But how do you go about it?
FID card overview
The FID card Framingham is a type of gun license in Massachusetts. This card will allow you to possess, purchase and carry the non-large capacity rifles, shotguns and ammunition. By non-capacity it means the firearm in your possession is not semi-automatic. It should also not be a rifle that can accept over 10 rounds. A non-large capacity firearm must also not be an assault weapon or a shot gun that can accept over 5 shells. With the FID card, you will be able to purchase, carry and possess mace and pepper spray. The FID card is different from the LTC which is the license you need to apply for if you want a concealed handgun or large capacity firearm.
Eligibility
In order to apply for the FID card Framingham, you are required to be over the age of 15. You must also be a resident of Massachusetts. Applicants should have a good criminal record with no convictions for violent crimes or the violation of drug laws. If you have ever been convicted of another crime, you must wait 5 years from the date you are released or from the end of the probationary period prior to applying for an FID card. Applicants must also not have any outstanding warrants or have any restraining orders. In addition to that, you must be of sane mind. If you have ever been committed in a mental hospital or an institution for drug use or alcoholism, you must provide a signed affidavit from your doctor that states that the condition no longer affects you.
Application process
Unless you are interested in the restricted FID card in Massachusetts, you will be required to first complete basic firearm safety course that is approved by the state. You can find a list of approved courses in Framingham from the website of the Massachusetts Executive Office of Public Safety and Security. You then need to submit your application for the gun license through your local police department. The application fee is $100 and an additional interview might be required. You may also need to bring written references from non-family members. You also need documents that verify your residence. Your fingerprints will be taken.
After submitting an application, your fingerprints will be sent to the state police within 7 days for verification. The state office has 30 days to authorize the approval or denial of your request. You will get the license in 2 to 6 weeks. If you don't get any response, you should assume that your application was denied. You have 90 days to file a petition with the local district court for an appeal.