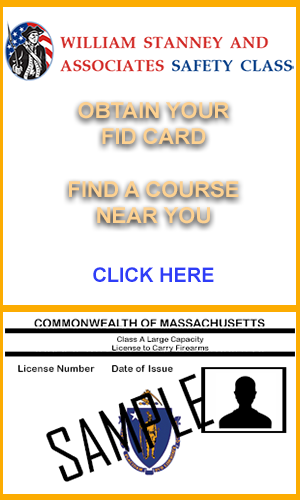 If you reside in Quincy, you will have to abide with the Massachusetts gun laws. What this means is if you want to legally possess a firearm you will need to have a valid firearms license. This is issued by the local police department. You can either apply for a License to Carry (LTC) or a Firearms Identification card (FID). In this post, we shall be focusing more on the process of applying for an FID card Quincy.
Basic requirements
The FID card will permit you to purchase and possess non-large capacity shotguns, rifles and ammunition. This type of license is only issued to person aged 15 to 21. If you are below the age of 18, you will be required to have parental permission. The FID card will also be required if you want to purchase any self-defense spray. However, if you are over the age of 18, you don't need the FID card to be able to purchase the self-defense spray.
Gun safety course
Another very important thing you will be required to do is to complete a recognized gun safety course in Massachusetts. These courses are offered by police departments and private companies. So long as the course is certified, you can go with either option. Courses offered by private companies tend to be more diverse. You will not only learn the basics but also additional courses such as how to use your firearm in self-defense. Any person interested in applying for the FID card Quincy must have completed an approved firearms safety course. You will be awarded with a firearms safety certificate at the end of the course. The original copy of the certificate ought to be submitted with your application.
Residency
To qualify for the FID card, you are required to be a resident of Massachusetts. However, it is good to note that there are other special conditions. For example, US citizens and the permanent resident aliens who live in Massachusetts are also eligible for the resident firearms licenses.
For the non-US citizens living in Massachusetts but are not permanent residents need to apply for the Resident Alien Permit to Possess a Shotgun or a Rifle. This is done through the Firearms Records Bureau. It is good to note that this permit will not allow you to possess handguns. The non-residents of Massachusetts are also required to get the non-resident, temporary license to carry in order to carry or possess firearms in the Commonwealth.
Cost and validity
When applying for the FID card Quincy, you should note that an application fee of $100 is required. The license is also valid for 6 years.
Having the FID card does not mean you can do whatever you want with your firearm. There are many conditions that can cause you to lose the license. You have to adhere to the laws and not just the gun laws.